Vaishali
Vaishali today is a small village surrounded by banana and mango groves as well as rice fields. But excavations in the area have brought to light an impressive historical past. The epic Ramayana tells the story of the heroic King Vishal who ruled here. Historians maintain that one of the world's first democratic republics with an elected assembly of representatives flourished here in the 6th century B.C. in the time of the Vajjis and the Lichchavis. And while Pataliputra, capital of the Mauryas and the Guptas, held political sway over the Gangetic plain, Vaishali was the center for trade and industry. Lord Buddha visited Vaishali frequently and at Kolhua, close by, preached his last sermon. To commemorate the event, Emperor Ashoka, in the third century B.C. erected one of his famous lion pillars here. A hundred years after the Mahaparinirvana of the Buddha - Vaishali hosted the second great Buddhist council. Two stupas were erected to commemorate this event. Jainism, too, has its origins in Vaishali, for in 527 B.C., Lord Mahavir was born on the outskirts of the city, and lived in Vaishali till he was 22. Vaishali is then twice blessed and remains an important pilgrim center for both Buddhists and Jains, attracting also historians foraging for the past. On the outskirts of Vaishali stood the grand double storied Buddhist monastery. Buddha often discoursed here. He extended spiritual enfranchisement to women by admitting them to the Holy Order which was founded here. Legend has it that on one of his visits, several monkeys dug up a tank for his comfortable stay and offered him a bowl of honey. This is regarded as one of the great incidents in the legends of Buddha, who announced his approaching Nirvana and preached his last sermon here. The Lichchhavis came a long way to bid him farewell on his way to Kushinagara and finally, they were stopped by a river created by Buddha. He once again paused to have a last of his much loved city. As a piety for Vaishali, he had already given his alms bowl which remained here for long time. A life size-pillar beside a brick stupa at Kolhua commemorates Buddha's last sermon and announcement of his approaching nirvana. The lion faces north, the direction Buddha took on his last voyage. Adjacent to this is the tank associated with the monkeys offering honey. Nearby are the skeletal remains of a monastery where Buddha resided and a votive stupas dot the region. Vaishali museum houses some of the archaeological remains discovered here. Facing the museum is the Abhishek Pushkarni which was holy to Lichchhavis. On one side of the lake is newly built Vishwa Shanti Stupa, a sixth in the series to be erected in India. Close to the museum is the shaded stupa which is supposed to have housed the casket relic with the ashes of Buddha. Archaeologists have uncovered a good deal of Vaishali. It begins with a huge mound which is associated with the ancient Parliament referred to Raja Vaihala Ka Garh. Bawan Pokhar temple houses a rich collection of black basalt images dating back to the Gupta and Pala period. Another black basalt, four headed Shivling (Choumukhi Mahadeva) was discovered when a reservoir was being dug. Behind the bawan pokhar temple is a Jain temple famous for its image of the Trithankar. A little distance from these temples lies the Lotus Tank which used to be a picnic spot of the Lichchhavis. Further north at Lauria Areraj, 31 Kms from Motihari, lies one of the Ashokan Columns with six of his edicts. The column is devoid of its capital. Another Ashokan column along with the lion capital can be visited at Nandangarh, 23 kms from Bettiah. These pillars possibly mark the course of the ancient Royal highway from Patliputra to Nepal valley. Few kilometers from the monolith at Nandangarh is the mighty brick stupa which is believed to have stored the casket relic containing the ashes of Buddha. At Nandangarh one can also see a dozen vedic mounds that contain the remains of ruling clans of pre-Buddhists times.
General Information
Altitude:52 metres
Temperature (Max./Min.) Deg C: Summer 44/21; Winter 23/6.
Rainfall:120 cms.
Best Season: October to March.
Clothing: Summer – Cottons; Winter - Heavy Woollens.
How to Reach
Air: The nearest airport is Patna (70 Kms).
Rail: Hajipur on the north eastern railway station (35 Kms) from Muzaffarpur Railway station (40 Kms).
Road: Vaishali is well connected by road to Patna (56 Kms), Muzaffarpur (36 Kms) and Hazipur (35 Kms).
Local Transport: Taxis and Buses are available.
What to Visit
Vaishali Shanti Stupa
Vaishali is where Buddha preached his last sermon before his Nirvana. Vishwa Shanti Stupa (World Peace Pagoda) built by the Nipponzan Myohoji sect of Japan is an important monument in Vaishali where a small part of the Buddhas relics found in Vaishali have been ensrined.
Ashokan Pillar
Emperor Ashoka built The Lion Pillar at Kolhua. It is made of a highly polished single piece of red sandstone, surmounted by a bell shaped capital, 18.3 m high. A life-size figure of a lion is placed on top of the pillar. There is a small tank here known as Ramkund. This pillar beside a brick stupa at Kolhua commemorates Buddha's last sermon.
Bawan Pokhar Temple
An old temple built in the Pala period stands on the northern bank of Bawan Pokhar and enshrines beautiful images of several Hindu gods.
Abhiskek Pushkarn (Coronation tank)
It contains water that was believed to be sacred in the old days. All of Vaishali's elected representative were anointed here before their swearing in. The Lichchavi stupa was located near here.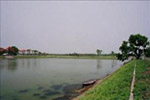 Kundalpur
Birth place of Lord Mahavira. 4Km.It is believed that the Jain Tirthankar, Lord Mahavir was born over 2550 years ago. Mahavir is said to have spent the first 22 years of his life here.
Shanti Stupa
The Vishwa Shanti Stup is located on a 400 meter high hill. The stupa is built in marble and on the four corners of the stupa are four glimmering statues of Buddha. To reach the top of this hill one has to come through the "Ropeways". This place is also called the GriddhKoot. Aerial Ropeway ticket cost is 60/- RS per Head.
Raja Vishal ka Garh
A huge mound with a circumference about one Kilometer and walls nearly 2 m high with a 43m wide moat around them, is said to be the ancient parliament house. Over seven thousand representatives of the federal assembly gathered here to legislate and discuss the problems of the day.
Vaishali Museum
Vaishali museum was established by Archaeological Survey of India in 1971 to preserve and display the antiquities found during exploration and excavation of sites associated with ancient Vaishali which was one of the oldest and largest cities of India in early historical period.
Kesaria
Ancient Kesariya was called Kesaputta and was a republic ruled by Kalamas, which was later annexed by its monarchical neighbour Kosala. Alara Kalama, the teacher of Buddha before enlightenment, is said to belong to Kesaputta. Buddha is also said to have had direct connection with Kesaputta. According to Jataka stories Buddha ruled this place as a Chakravartin Raja in his previous birth. Similarly, it was during one of his visits to Kesaputta that Buddha gave one of his most important discourses, the celebrated Kessaputtiya Sutta, popularly known as Kalama Sutta. Kesariya stupa is believed to have been built to honor the place where Buddha had spent the last days of his journey, before attaining Nirvana. It is said that on his last journey to Pawa, Buddha handed over his begging bowl to the following Lichhivis, people of Vaishali and requested them to go back to Vaishali. To venerate the end life of Buddha, the Lichhivis are said to have built this stupa. While formerly, it was only a mud stupa, it gained its present structure in the Maurya, Sunga and Kushana period. Huien Tsang mentions having seen the grand Stupa in Kia-shi-po-lo (Kesariya) but it was deserted and vegetation had overgrown.
Chaumukhi Mahadev
Chaumukhi Mahadev, or Chaturmukhi Mahadev, is a historic Hindu temple located approximately 2 kilometres (1.2 mi) east of Vaishali Gadh, Bihar, India. The Temple has Shivling with four god faces, Brahma, Vishnu, Mahesh and Surya. While the construction time is unknown, it is believed to have been built during the fifth century.