Takht Sri Patna Sahib
Takht Sri Patna Sahib also known as Harmandar Sahib, is a Gurdwara in the neighborhood of Patna Sahib, India. It was to commemorate the birthplace of Guru Gobind Singh Ji, the tenth Guru of the Sikhs on 22 December 1666. It was built by Maharaja Ranjit Singh (1780-1839), the first Maharaja of the Sikh Empire, who also built many other Gurdwara's in the Indian subcontinent. The current shrine of Patna Sahib or Takht Sri Harmandirji Saheb was built in the 1950s. Guru Gobind Singh, the tenth Sikh Guru, was born in Patna, Bihar, in 1666. He also spent his early years here before moving to Anandpur. Besides being the birthplace of Guru Gobind Singh, Patna was also honored by visits from Guru Nanak as well as Guru Tegh Bahadur.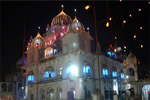 Gurdwara Guru ka Bagh
About three kilometers east of Takht Sri Harmandir Sahib is where Guru Tegh Bahadur first alighted in a garden (bagh) belonging to Nawabs Rahim Bakhsh and Karim Bakhsh, nobles of Patna, and where the sangat of Patna along with the young Guru Gobind Singh came out to receive him back from his four-year-long odyssey. A shrine commemorative of the first meeting of Tegh Bahadur and Gobind Singh was established here. Its present building was constructed during the 1970s and 1980s. An old well still in use and a dried stump of the imli tree under which the sangat met Guru Tegh Bahadur still exist.
Gurdwara Gai Ghat
Gurdwara Pahila Bara, commonly known as Gurdwara Gai Ghat, is a holy Gurdwara of Sikh religion. It is located in the city of Patna, Bihar, India and dedicated to Guru Nanak Dev. The Gurdwara is part of "Guru Circuit" - A Government of Bihar initiative connecting important Sikh religious destinations in Bihar to attract more pilgrims.
Gurdwara Handi Sahib
Gurdwara Handi Sahib is situated in Danapur is a cantonment station, 20 km west of old Patna City. Guru Tegh Bahadur had returned to Punjab in April 1670 leaving his family behind at Patna. The family after leaving Patna Sahib made their first halt here. An old lady named Jamani Mai served a kettleful (handi) of khichari to them after which the shrine subsequently built here was named as Handiwali Sangat, which is now called Gurdwara handi Sahib. Son of Mata jamni Mai Mathura Singh donated the land on which gurudwara was built and his family members still live there under guardianship of Sri Arun Singh , still rendering services inherited by his great grand fathers.