Patna
Patna once called Pataliputra the capital of Bihar,is among the world's oldest capital cities with unbroken history of many centuries as imperial metropolis. A very fertile arched stretch of land along the bank of the Ganga. The history and heritage of modern day Patna go back well over two millennia. Like Delhi, Patna too had been the regal seat of governance for successive kingdoms since ancient times. And to this day, it is the capital city of the state. As each ruler ascended in power and established dynastic glory, he gave his capital a new name. Thus, the ancient Kusumpura metamorphosed through Pushpapura, Pataliputra, Azeemabad and now into Patna, a continuous history ranging from 6th century BC to present times - a record claimed by few cities in the world. It was Ajatshatru the Magadha king who first built a small fort in Pataligram on the bank of the Ganga in 6th century BC, which later blossomed into the ancient glory still to be seen in the neighboring archaeological sites at Kumrahar. Bhiknapahari, Agamkuan, Bulandi Bagh and Kankar Bagh. Pataliputra dominated the political fortunes of the whole of north India between 6th century BC and 5th century AD, a fact established by archaeological excavations. After a temporary eclipse, in 16th century, Sher Shah Suri returned the city to its former glory and established the present Patna. After the decline of the Mughals, the British too found Patna a convenient regional capital and built a modern extension to this ancient city and called it Bankipore. It was in Gandhi Maidan in this area, that Mahatma Gandhi held his prayer meetings.
General Information
Altitude: 53 metres
Temperature (Max./Min.) Deg C: Summer - 40/21; Winter - Max. 20/6.
Rainfall:120 cms
Best Season: October to March
Clothing: Summer – Cottons; Winter - Heavy Woollens
How to Reach
Air: The flights of Indian Airlines, Sahara India, Air Deccan and Jet Airways connect Patna with Bombay, Calcutta, Delhi, Lucknow, Ranchi and many other major cities.
Rail: Patna is connected by rail to Bombay, Calcutta, Guwahati, Ranchi, Varanasi.
Road: All - weather motorable roads connect Patna with the rest of Bihar. There are also regular inter - state bus services.By road Patna to Nalanda-95 km, Rajgir-110 km, Pawapuri-90 km, Gaya-120 km, Bodhgaya-135 km, Raxaul-210 km, Ranchi-335 km, Muzzafarpur-78 km, Sasaram- 152 km, Vaishali-56 km, Calcutta-653 km, Delhi-997 km.
Bus: Regular direct bus services connect Patna to Calcutta, Rajgir, Nalanda, Pawapuri, Vaishali, Gaya-Bodhgaya, Ranchi, Raxaul, Muzzafarpur, Sasaram.
What to Visit
Golghar
Alarmed by the famine of 1770, captain John Garstin built this huge granary for the British army in 1786. The massive structure is 29 m high and the walls are 3.6 m wide at the base. The winding stairway around this monument offers a brilliant panoramic view of the city and the Ganga flowing by.
Eco Park (Rajdhani Vatika) - Explore
Eco Park or Rajdhani Vatika is a beautiful park situated in the very center of the city. It is situated in Punaichak area amid the hustle-bustle of the government offices. The park is maintained by the Department of Environment and Forest, Government of Bihar.
Bihar Museum - Explore
Bihar Museum situated on a 13.5 acre plot on Bailey Road in Patna. The total built-up area is 24,000 square metres and the total gallery spaces add up to an area of 9500 square metre. For this project, Maki and Associates of Japan teamed up with OPOLIS Architects of Mumbai, India. Life is all about experience. Every second, in fact every nano-second, we are continuously experiencing. Even if we are not consciously thinking about it, we can feel, smell, touch, hear and see. How beautiful it is, this capacity to experience! It is what mothers teach their children and how teachers shape their students. I was built by my architects fundamentally for all visitors to experience history. You will enter the magical worlds of kings, poets, saints and countrymen, the history of times gone and many transformations.
Buddha Smriti Park
Buddha Smriti Park also known as Buddha Memorial Park (as translated in english) is an urban park located on Frazer Road near Patna Junction in Patna, India. This park has been developed by the Bihar Government to commemorate the 2554th birth anniversary of the Buddha. This park was inaugurated by the 14th Dalai Lama.
Martyr's Memorial
A memorial to seven freedom fighters who sacrificed their lives in the Quit India Movement of August 1942, the Martyr's Memorial is a modern sculpture facing the Secretariat, where they were shot in their attempt to host the national flag.
Patna Museum
The Patna Museum houses a First World War cannon, metal and stone sculptures of the Mauryan and Gupta periods, Buddhist sculptures and quaint terracotta figures. A 16 m long fossilised tree is one of its special features.
Pathar ki Masjid
Adjacent to Har Mandir Sahib, on the bank of the Ganga, is this beautiful mosque built by Parwez Shah, son of Jehangir, when he was the governor of Bihar. It is also called Saif Khan's mosque, Chimmi Ghat mosque and Sangi Masjid.
Sher Shah Suri Masjid
Sher Shah Suri built this mosque in 1545 to commemorate his reign. Built in the Afghan architectural style, it is one of the many beautiful mosques in Bihar, and one of the impressive landmarks of Patna.
Khuda Baksh Oriental Library
Founded in 1900, a magnificent one man collection of rare Arabic and Persian manuscripts, Rajput and Mughal paintings, oddities like the Koran inscribed in a book only 25mm wide and an assortment of old and new books from the University of Cordoba, Spain. It is one of the national libraries in India. The library also contains the only books to survive the sacking of the Moorish University of Cordoba in Spain.
Jalan Museum
Built on the foundations of Sher Shah's fort, Qila House contains an impressive private collection of antiques, including a dinner service that once belonged to George III, Marie Antoinette's Sevres porcelain, Napoleon's four-poster bed, Chinese jade and Mughal silver filigree,.It is a private collection, and prior permission is required for a visit.
Sadaqat Ashram
The Ashram is the headquarters of Bihar Vidyapeeth, a national university. India's first president, Dr. Rajendra Prasad lived here after his retirement and there is a small museum here showcasing his personal belongings.
Agam Kuan
Agam Kuan (Unfathomable well) is one of the most important early historic archeological remains in Patna. It is situated just close to Gulzarbagh railway Station, which is proposed to be associated with the Mauryan Emperor Ashok.
Gandhi Setu
One of Asia's longest roadway bridge.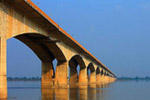 Padri Ki Haveli
The Place where Mother Teresa got her training.
Biological Park (Patna Zoo) - Explore
Patna Zoo was established as a Botanical Garden vide Government of Bihar, Forest Department's letter no. 1781V dated 13.4.1970 on a chunk of 34.00 acres land being part of the Governor's campus. His Excellency the then Governor of Bihar, Shri Nityanand Kanoongo bestowed the land to the forest department to establish the garden. The Divisional Forest Officer, Gaya Forest Division was deputed as officer-in-charge of the Garden. Later on, in 1972 the name was changed to Biological Park by the Department of Forests, Govt. of Bihar, and, it was brought under the administrative control of the Working Plan Officer, Magadh Circle, Patna. Later on the adjoining 58.20 acres land of Revenue Department and 60.75 acres land of Public Works Department transferred to Forest Department was added to the existing Biological Park. Thus, present area of the Biological Park is approximately 153 acres. The land acquired from Public Works Department and Revenue Department is notified as Protected Forest by the State Government. The State Government has declared the park/zoo service as 'Essential Sevice' under the Bihar Essential Services Maintenance Act.
Modern Planetarium
Indira Gandhi Science Complex, is one of the must visiting places in Patna. This is among few Planetarium's (Taramandal) in India.
Kumhrar
Kumhrar, site of the ancient city of Patliputra, lies 5 kms from Patna railway station. Archaeological findings in this area establish Patna's claim to over a thousand years of political glory - 600 BC to 600 AD. Very little of this grandeur remains though, except for the remains of a huge Mauryan hall supported by 80 sandstone pillars dating back to 300 BC.